Find New Clients To Your Business
World's Only Lead Generation Software Which Is 100% FREE
Extract and Save UNLIMITED emails 100% FREE for Lifetime.
For Free Email Marketer Addon – CLICK HERE
*We offer  Lead Generation Softwares (FLIPY Email, FLIPY PHONE,  Morphy B2B Contacts Finder and Morphy Email Extractor) Out Of Which only one software is 100% FREE for lifetime.
FLIPY EMAIL LEADS EXTRACTOR
ALL IN ONE SOCIAL MEDIA EXTRACTOR
Extracts email id, Title, description and link from social media platforms 
Extracts Email leads from Facebook, LinkedIn, Instagram,YouTube, Pinterest, Twitter, Tiktok, Tumblr
You can also extract from custom websites
WATCH VIDEO TO LEARN MORE  
MORPHY B2B CONTACTS FINDER
To extract unlimited business leads with full details like name, email, phone, website, address etc based on given keywords from any location in world.
WATCH VIDEO TO LEARN MORE  
FLIPY PHONE LEADS EXTRACTOR
ALL IN ONE SOCIAL MEDIA PHONE NUMBER EXTRACTOR
Extracts Phone number leads from Facebook, LinkedIn, Instagram,YouTube and Pinterest. Extracts Phone number, Title, description and link from social media platforms
WATCH VIDEO TO LEARN MORE  
Morphy Email extractor
Helps to extract full name, email, mobile number, website url, social media profile urls, postal address etc from linkedin, facebook, search engines, websites, google maps, local files / folders, Domain Owners Registry, Email Accounts, and mssql/mysql databases.
Free Email Marketing Addon
Create , send and track UNLIMITED bulk emails to the generated leads using Morphymail Email Marketer, the free mass email marketer addon of Morphy. CLICK HERE to download now
Target your leads based on keywords and geography
Get leads specifically meant for your business by keyword targeting and location targeting. 
Use the generated lead data for your marketing
Upload the generated leads to your CRM software or
send bulk email messages
, bulk whatsapp messages,
bulk sms
messages or simply do a direct postal mail campaign.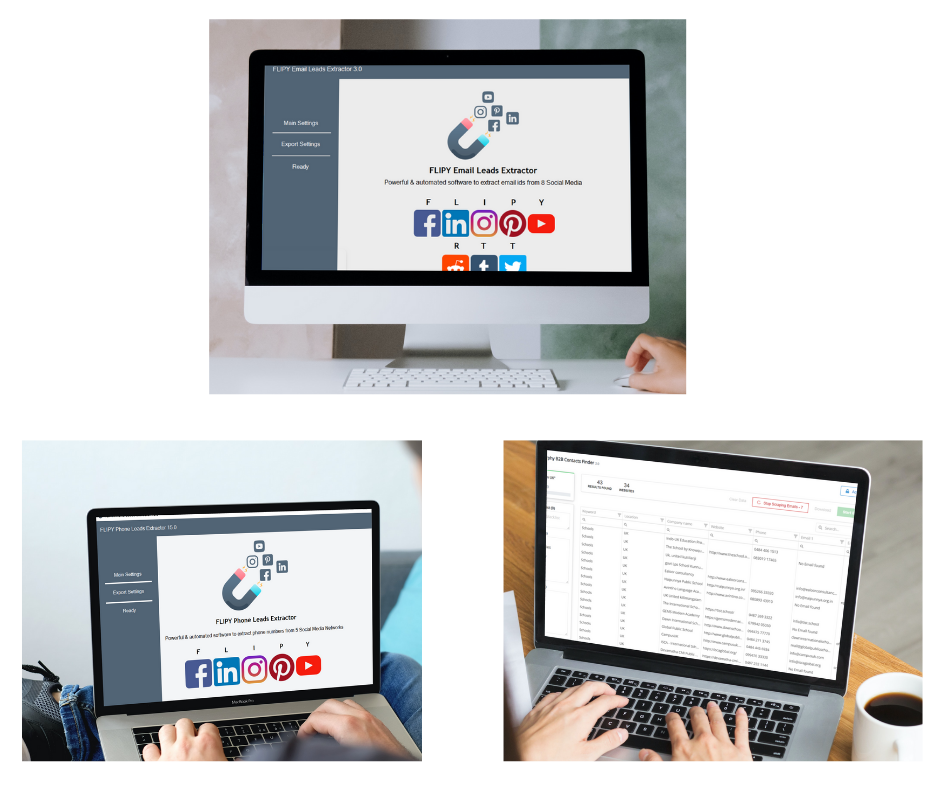 How It Works?!
Increase traffic to your website using our lead generation and digital marketing tools and watch the traffic hike in your google analytics.
Before meeting Morphy , I researched google for many lead generation companies and all of them were charging on a per lead basis. It is good that finally I found Morphy email extractor where I can get UNLIMITED leads for free.
Boris Mesel
I like the speed with which Morphy email extractor is extracting mobile numbers of decision makes of businesses. I send bulk whatsapp campaigns only to decision makers because they are easy to get converted into sales. On an average I am getting around 6 to 8 sales per week from my campaigns.
Thanks to Morphy email extractor Team. Good Luck to you….
Debra Becker
I like the free email marketer and the Morphy email extractor from website.  I am using multiple gmail accounts and morphymail to send 8000 emails every day to emails extracted using Morphy and my emails are all reaching inbox. I am glad that both the softwares are completely free. This system infact is the best outbound marketing method I have found so far to promote my website.
Bob Kozel
Let's Get Started
Ready To Make a Real Change? Let's Start Acquiring Clients Together!