Find New Clients To Your Business
World's Only Lead Generation Software Which Is 100% FREE
Extract and Save UNLIMITED emails 100% FREE for Lifetime.
For Free Email Marketer Addon – CLICK HERE
*We offer 8 Lead Generation Softwares (facebook extractor, linkedin extractor, leads extractor, email extractor,  Morphy B2B Contacts Finder and all in one extractor corporate edition) Out Of Which only one software is 100% FREE for lifetime.
Morphy Email extractor helps to extract full name, email, mobile number, website url, social media profile urls, postal address etc from linkedin, facebook, search engines, websites, google maps, local files / folders, Domain Owners Registry, Email Accounts, and mssql/mysql databases.
Learn More
Boxxer email extractor is the fastest email spider on web with multithreaded scanning feature. Unlike other email harvester, boxxer email extractor is capable of extracting mobile numbers and fax numbers from search engines. Boxxer free email extractor has an in-built email verifier to remove invalid email addresses from the extracted email list.
Generate B2B & B2C Leads With Full Details
Generate contact details of people who are looking to buy your products/services within minutes. Get full details like name, email, mobile number, fax, website address, postal address, city, state, country etc
Learn More
Boxxer email-phone-fax extractor is a free email spider which extract email addresses,extract phone numbers,extract fax numbers from search engines, local files,websites, mailboxes etc.
Target your leads based on keywords and geography
Get leads specifically meant for your business by keyword targeting and location targeting. Example: "Hotels in California, United States" OR "Plumbers in Birmingham , UK"
Learn More
Email extractor is built to collect unique email addresses,phones and fax. boxxer is the best email extractor which helps in conducting targeted email campaigns. Boxxer email extractor is a powerful email hunter for building your customers email lists from your mailbox. You can harvest email addresses using our free email extractor in very easy steps just like you search in google.
Use the generated lead data for your marketing
Upload the generated leads to your CRM software or
send bulk email messages
, bulk whatsapp messages,
bulk sms
messages or simply do a direct postal mail campaign.
Learn More
All you need to do is to type particular keywords and enter the location to extract emails from. You can also extract email addresses from web pages.
Free Email Marketing Addon
Create , send and track UNLIMITED bulk emails to the generated leads using Morphymail Email Marketer, the free mass email marketer addon of Morphy. CLICK HERE to download now
Learn More
Download our free email address extractor by clicking the download button on bottom of this page and see how it works. Boxxer email address extractor is a perfect email finder which will crawl web pages and find email addresses according to your given keywords and location.
High Speed and 95% Accuracy
Morphy can extract 70K records in 3 hours with an accuracy of 95%. Experience lesser bounce rate and high open rates for your email campaigns and 100% delivery rates for your sms / bulk whatsapp campaigns.
Built-in Email Verifier
Remove invalid email addresses from the generated leads using the built-in bulk email verifier which is free along with the software. Reduce bounce rate for your email campaigns and get 100% inboxing.
Facebook & Linkedin Data Extractor
Extract contact details of businesses and people from linkedin and facebook based on target keywords from any location in world and save them to ms excel (csv) for your marketing.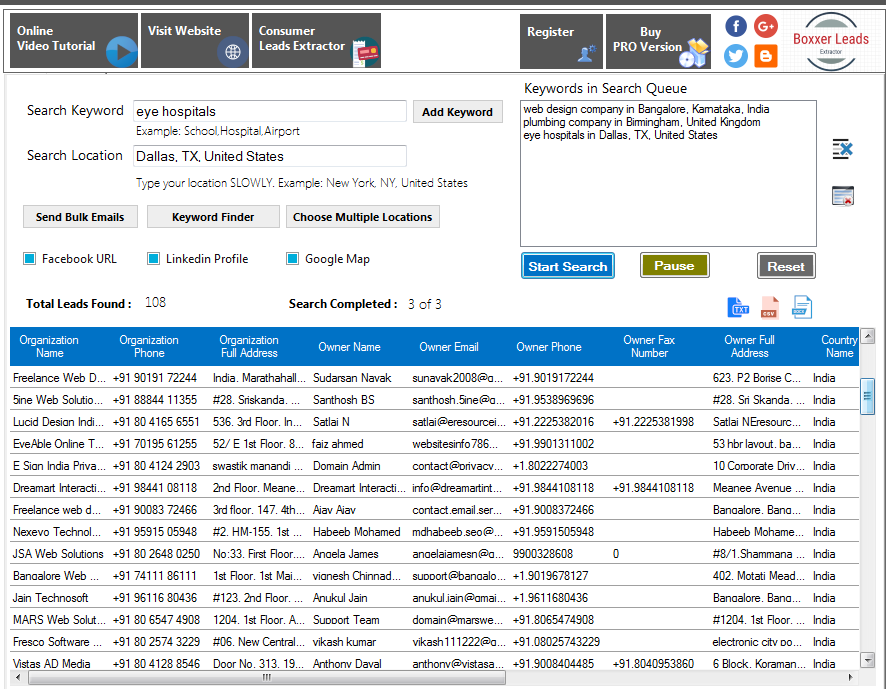 How It Works?!
Increase traffic to your website using our lead generation and digital marketing tools and watch the traffic hike in your google analytics.
Before meeting Morphy , I researched google for many lead generation companies and all of them were charging on a per lead basis. It is good that finally I found Morphy email extractor where I can get UNLIMITED leads for free.
Boris Mesel
I like the speed with which Morphy email extractor is extracting mobile numbers of decision makes of businesses. I send bulk whatsapp campaigns only to decision makers because they are easy to get converted into sales. On an average I am getting around 6 to 8 sales per week from my campaigns.
Thanks to Morphy email extractor Team. Good Luck to you….
Debra Becker
I like the free email marketer and the Morphy email extractor from website.  I am using multiple gmail accounts and morphymail to send 8000 emails every day to emails extracted using Morphy and my emails are all reaching inbox. I am glad that both the softwares are completely free. This system infact is the best outbound marketing method I have found so far to promote my website.
Bob Kozel
Let's Get Started
Ready To Make a Real Change? Let's Start Acquiring Clients Together!